This report on new professional digital video cameras (introduced at or just before this month's NAB Show) is continued from the previous post.
Arri Alexa
Arri released their popular Alexa camera about halfway through 2010 and has gotten rave notices for its sensitivity, low noise, image quality, and portability. And it records in Apple's ProRes format, which means no transcoding of files in postproduction.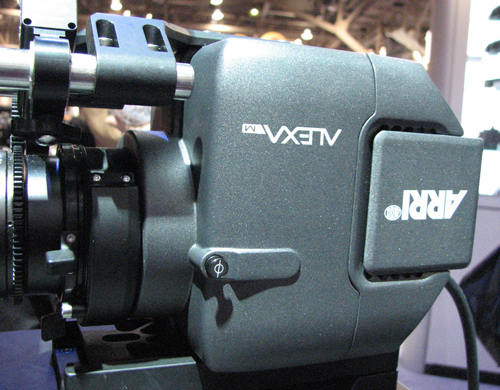 Alexa M
At this year's NAB Show, Arri showed prototypes of a new model, the Alexa M (for Modular), which separates the camera head (with the lens and optical block) from the camera brain. The compact camera head, which comes with a PL mount, offers a small footprint for greater flexibility in double-camera 3D rigs, each Alexa M wired to a separate control module. The Alexa is currently available, street price about $66,000 for the Basic Camera Set, or about $82,000 for the SxS Module Pro Set, without lens. No word yet on availability or cost of the M.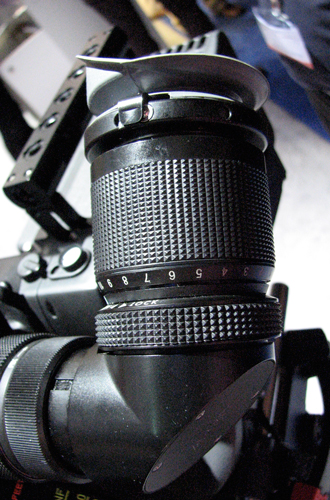 Alexa Viewfinder
Arri also showed a prototype of a new optical viewfinder for the Alexa.
JVC GY-HM750 / GY-HM790
I've always liked the long, narrow, ferret-like form factor of this line of JVC camcorders. The JVC cameras are stretched lengthwise, an improvement over the short, stubby architecture of the original Sony Handicams and their successors. For handheld shots with the JVC cameras, rather than holding the camera out in front of you supported by both hands (as you would with a stubbycam), you can actually rest the body on your shoulder; support, zoom, and steer the camera in the traditional manner with your right hand; and focus with your left.
The latest models, the GY-HM750 and the GY-HM790, record in Final Cut Pro's native .mov file format on SDHC Class 6 or Class 10 memory cards, so transcoding is unnecessary. The main difference between the two models: the 790 can genlock and has time code in/out ports. Because of their 1/3-inch sensors, their easy work flow, and their capability to shoot in 1080, 720, or 480, and they are popular among TV stations still shooting standard definition, or transitioning from standard def to HD.
Available now. Street price (without lenses): GY-HM750 about $5700, GY-HM790 about $8100.
Canon XA10
The XA10 is an ultra compact professional camcorder (under two pounds) with a built-in 10x HD zoom lens, Canon DIGIC DV III Image Processor, 1/3-inch native 1920 x 1080 CMOS image sensor, and optical stabilization. Its detachable handle aids in low-angle shooting and enhances the camera's function also providing XLR audio inputs and external mic holder. It records to a 64GB internal flash drive or two SDXC-compatible card slots,using an AVCHD codec. It also features infrared video capture, capable of seeing in the dark. It was introduced earlier this year, and is currently available. Street price: about $2000.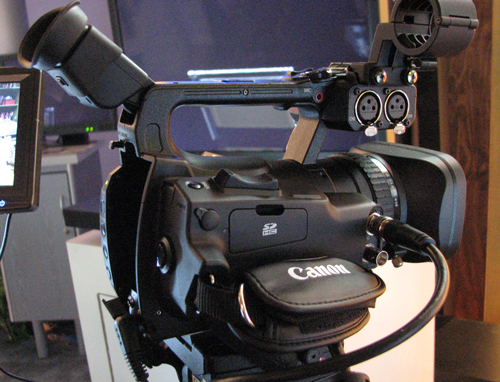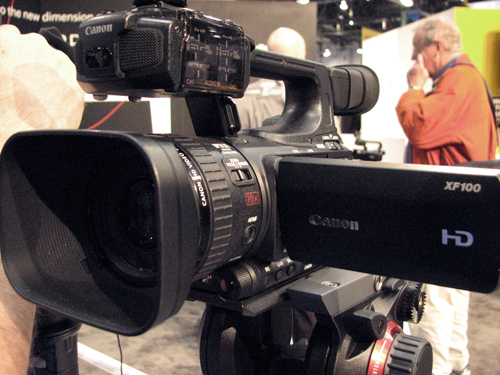 Canon XF100 / XF105
The XF100 has the same built-in 10x HD zoom lens, Canon DIGIC DV III Image Processor, infrared video capture capability, and 1/3-inch native 1920 x 1080 CMOS image sensor as the XA10, but in a less compact package with more features. It records to Compact Flash cards in MPEG-2 4:2:2 50Mbps Codec (Canon XF Codec). The XF100 is also capable of multiple recording bit rates, resolutions, and variable frame rates. The XF105 is the same camera with genlock capability, HD-SDI output, and time code in/out terminals. On sale now. Street price: about $3000 for the XF100, and about $4000 for the XF105.
Canon 5D Mark III?
Canon did not announce a new model HD SLR, such as an EOS 5D Mark III, or any other large-sensor film/video hybrid camera.
New Canon video zoom lenses
Canon did announce three new zoom lenses for video work: FK14.5-60 Wide-Angle PL-Mount Cine Zoom Lens; FK30-300 Telephoto PL-Mount Cine Zoom Lens; and KJ20x8.2B IRSD portable HD lens. No word yet on pricing or availability.
Red Epic / Scarlet
I ran out of time at NAB and had limited time at the Red booth, which was in another hall, away from the rest of the camera companies. Red showed the new Epic and Scarlet models in several displays, but behind ropes so users couldn't get too close or touch them. The Epic uses the same 5K Mysterium-X sensor (who names these things, anyway?) as the current Red One model, but in a package a third the size. It is capable of shooting up to 120 fps, with S/N ratio of 66 dB, each frame at 14 megapixels resolution. A couple hundred Epics are currently in limited release around the world, including 30 that Peter Jackson is currently using to film "The Hobbit" in 3D. A Red rep told me that more Epics would be available "soon," and that the Scarlet, which has been announced for years, will be released "soon."
Oddly, it's difficult to get information from Red. Their website says little about Scarlet, beyond "Coming Soon," and they are the only company I encountered at NAB that didn't scan attendees' badges to send product literature. More information, sort of, at Red.com.