Manufacturers showed tons of new gear of all kinds at this month's NAB Show in Las Vegas. Because my time at the show was limited, I focused primarily on new professional digital video cameras.
Some of these cameras were also involved in a 12-camera shootout — the Single Chip Camera Evaluation, a screening presented by Image Quality Geeks. More on this soon.
Over the next two posts, I'll preview a number of impressive new cameras introduced at or just before this NAB.
Sony CineAlta F65
The F65 adds a new top end to the CineAlta line. It sports the industry's first 8K 20 megapixel CMOS sensor for HD, 2K, and 4K resolution … and higher. It spits out 16 bit RAW output in a variety of aspect ratios, both spherical and anamorphic, and records on ultra-fast, high capacity SRmemory cards. It can shoot 1 to 120 fps with wide dynamic range, low S/N ratio and high sensitivity.
The F65 was shown at NAB under glass, on a turntable. Impossible to touch or even get close to. No shooting gallery, no live pictures. In a small theater near the display, however, Sony showed a narrative short recently photographed with the F65 by Curtis Clark ASC. I saw the film twice, once with someone (I think it was Clark) adding commentary about which parts of which scenes were lit, and which were shot under available light in the streets of LA. Scrutinized with this crystal clear projection, the camera looked stunning. No word yet on availability or pricing for the F65, but it will probably cost about $100,000, similar to Sony's F35, which is currently the top of the Cine Alta line.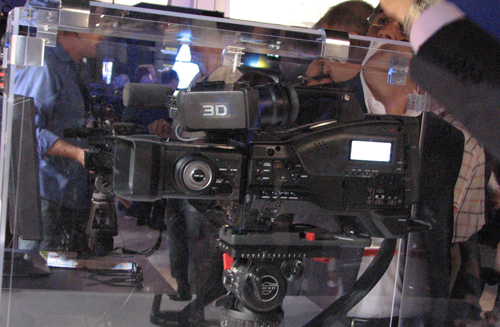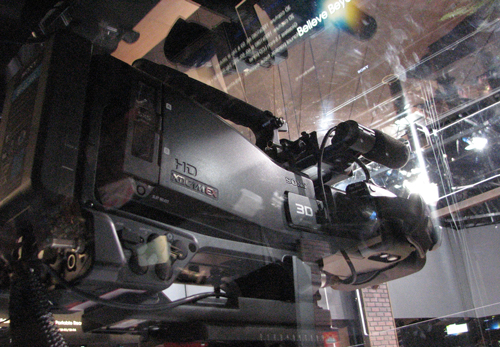 Sony PMW-TD300
The PMW-TD300, according to Sony, is the first 3D professional, fully integrated camcorder with a traditional shoulder mount form factor and design. It features a dual lens system, fully synchronized lens operation and intuitive convergence control, color LCD viewfinder, and dual three-chip ½-inch Exmor Full-HD CMOS sensors. It records in 3D and 2D modes at 1920 x 1080 resolution, in XDCAM EX format on Sony's SxS cards, or through the HD-SDI output. Workflow is identical to Sony's PMW-EX3 and EX1 models. Available in late 2011, list price about $33,000.
The TD300 was shown at NAB as an advanced prototype, displayed under glass (literally) among all the other camera models in the shooting gallery in the Sony booth.
Sony PMW-F3
The Sony F3, which I profiled recently, was quite popular at NAB. The F3 impressed with its small size, large Exmor Super 35mm CMOS sensor, high sensitivity (ISO 800), low signal-to-noise ratio (63dB), affordability, and pristine pictures. It uses E-mount or POL lenses, and records internally on SxS cards or through its HD-SDI port with 10 bit 4:2:2 uncompressed output. Available now as camcorder body only, street price about $13,300, or as camcorder plus three Sony PL-mount prime lenses: 35mm, 50mm, and 85mm, street price about $18,950. New Sony zooms are expected later this year.
Sony NXCAM NEX FS-100
The NXCAM NEX FS-100 has the same large Exmor Super 35mm CMOS sensor as Sony's new PMW-F3 model, but in a smaller package with more limited features. It uses Sony's E-mount interchangeable lens system and records 1920 x 1080 60P at 28Mbps, as well as slow and quick motion shooting, to uncompressed HDMI 4:2:2 digital output. It records on the mountable HXR-FMU128 Flash Memory Unit with over 10 hours of continuous recording, or simultaneously to SD or MS cards. Its modular design features a small, light body, bright, sharp LCD viewfinder, detachable grip, handle, and viewfinder tube, and a handgrip which can be rotated 360 degress. Available Summer 2011, list price $5850 for body alone, or $6550 with Sony 18-200mm E-mount lens.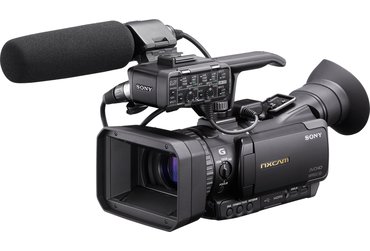 Sony HXR-NX70
The NX70 is weatherproofed against rain and dust. It has a built-in 10:1 zoom, a small form factor, native 16:9 Exmor R sensor, 96GB internal flash memory, and one slot for recording on SD or Memory Stick Pro Duo cards. Available Summer 2011, list price $3200.
Panasonic AG-3DP1
The AG-3DP1, like Sony's PMW-TD300, is a 3D twin-lens shoulder-mount camcorder. It uses two 1/3-inch, full-HD 2.2 megapixel 3-MOS 3-chip imagers, smaller than the ½-inch imagers in the Sony product. It records 2D or 3D 10-bit 4:2:2 images in native 1920 x 1080 resolution, up to 80 minutes each on dual 64GB P2 cards, using the AVC Intra codec. Used in 720p mode, 20 variable frame rates between 12 and 60 fps are available. The dual lens system features a 17:1 zoom. Focus, zoom and iris are automatically synchronized between the left and right lenses.
The AG-3DP1 was displayed in the Panasonic shooting gallery, but behind ropes, so it was difficult to get pictures of it and impossible to touch. Available Fall 2011. No price announced yet.
Panasonic AG-HPX250
The HPX250 is a compact camcorder, successor to the HPX170. It uses high sensitivity 1/3-inch 3-MOS sensors and records to P2 media in AVC-Intra 100/50, as well as all the DVCPRO formats. It offers variable frame rate capability up to 30 fps in 1080p and up to 60 fps in 720p, a 21:1 built-in zoom, a Dynamic Range Stretch (DRS) function, wave form and vectorscope, and standard P2 workflow. The HPX250 should be available in Fall 2011 at a list price of about $6500.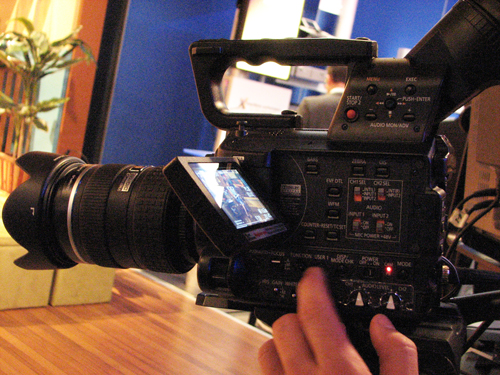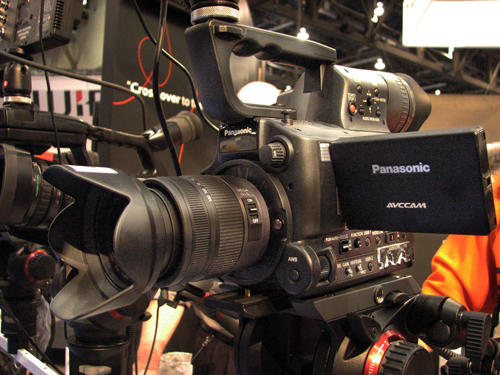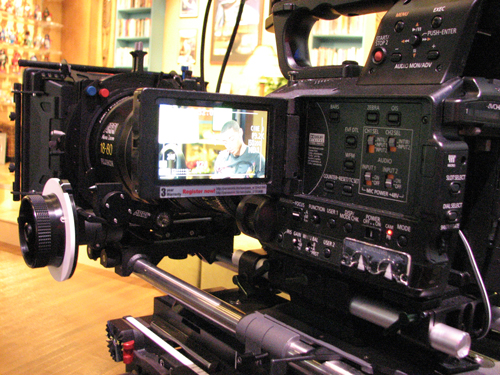 Panasonic AG-AF100
Panasonic also exhibited the AF100 camcorder, their entry into the large sensor market, the first professional camera to use a Micro 4/3-inch 16:9 MOS imager (about the same size as 35mm cinema film). It was introduced at the end of 2010 and has been on sale for several months. It uses a high-performance digital signal processor (DSP) for image processing and dynamic range stretch (DRS) and includes a 1080 Variable Frame Rate function with 20-step undercrank/overcrank capability, recording to the new SDXC Memory Card.
Available now, street price about $4800 for camera body only.
(More Cameras from NAB … coming soon!)